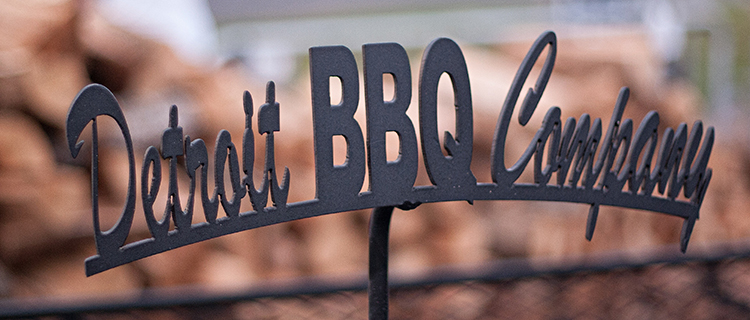 History of Detroit BBQ
Detroit BBQ Company started off with two brothers and their buddy selling ribs and chicken at the Grosse Pointe Park farmers market in 2009, mostly for extra beer money on the weekends. Everything the first year went well, and we were invited back for a second year. In the off season we learned how to make a decent smoked pork butt, the mother of pulled pork. About the third week in, we had a request from a lady who asked if we were interested in cooking for her sons' graduation party. We said "sure!" and set off catering our very first job. We quickly learned there was a niche for onsite BBQ catering in Southeast Michigan, and set off buying our own commercial capacity smoker (we had been borrowing a friend's dad's smoker)
Business went well that summer, and the next year we added a second farmers market to our rotation, this one out in Clawson. By a stroke of sheer luck, a sales rep from the Detroit Metro Times lived close enough to the Clawson market to smell the BBQ every Sunday, and asked if we would be interested in participating in the Metro Times inaugural "Pig and Whiskey" festival. Since those are two of our favorite things, we immediately said yes. All of a sudden, we were playing with the big boys of the Detroit BBQ scene – Slows, Lockharts, Lazybones, and holding our own. We sold out that day, amazed at the prospect of actually making a real business out of something we loved doing.
We kept plugging along, adding new smokers when we needed one for extra capacity to keep up with a growing demand. Demand grew so large that in 2014 Tim quit his day job and we purchased a BBQ trailer with a 500lb capacity smoker on it and decided that if there was a time to go for it, this was it.
It's 2016, and we're proud to say that although we've had some hiccups and hazards along the way, this is still a job we love and are proud to serve up what we think is the best BBQ in the state.
MISSION STATEMENT
Our mission at Detroit BBQ Company is quite simple. We aim to provide the highest quality smoked meats at a fair price and with excellent customer service. We use high quality meats from Creekstone Farms and Niman Ranch, all of which are cooked over a mixture of local oak and hickory wood until we decide they're done. We will never serve reheated BBQ, nor will we serve BBQ that has been cooked in aluminum catering pans. We aim to sell out each and every day. Leftover meat may get mixed into the next days beans or greens, and what isn't used in that is donated to a local soup kitchen.